-- Here's a few samples of my work. Please click on a page link for more samples. Thanks

-- To pause or resume play, click top left of image or directly of thumbnail.
-- My paintings are often a reflection of my daily life in Los Angeles, the city and the space around me. A moment is a snapshot, simplified and sterilized. The ocean of traffic, people, and machinery quiets as nature's palette mixes and melts into itself. The pipes and power lines stand erect and dark, cutting through the skies, quietly stitching the hills and street together, moving in and out of focus as the larger landscape bleeds in. I catch a moment, remember the stillness in the air when I passed, smell the burning grease through a neighbor's window, and breathe in the thick sweet air of Valerian in bloom, while the coyotes and sirens scream discordantly. The image stops, a quiet memory hangs on, and the colors bleed together, fading the rush of pale pink and cerulean blue skies, as the city is simplified and the moment becomes my dreamscape.
-- With my Bachelor of Fine Arts, I began building props, painting backdrops, and working as a scenic/set painter for the motion picture industry, as I transitioned into illustration, storyboard art, and screenwriting. Learning to manipulate the various paints and materials we use on movie sets has directly informed my technique with regards to my fine art, landscapes, and portraiture. As a result, my paintings, done in acrylic, have the luminosity and feel of oils.


-- Always inspired by my neighborhood and the people I meet everyday, I continue to create and show my artwork, sculpture, and paintings in galleries, wile working and living in Los Angles.
You can find me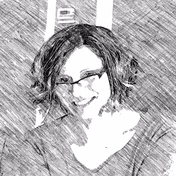 if you want to contact me, send me a note at
leslie@lawsonology(dot)com -- thanks, Leslie
---